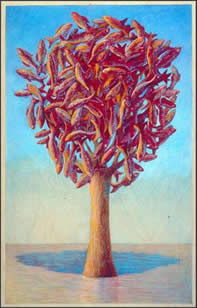 El Arbol de la Vida by Liliana Wilson-Grez
(Click on images for larger view)
---
Alician Beginnings
I was born in Alice, the "Hub City" of South Texas on April 7th, 1974. Alice is basically a dried-up oil boom town. Things were going well there in the 1970s. When I was very young, my mother, Jennifer, worked as a secretary for an oil field company. The two of us lived in an apartment with our dog, Missy. My mother is a very gentle, optimistic, and generous person. Some of my fondest childhood memories are of being with my mother and our dog in the evenings and watching Mork & Mindy, the Love Boat, Three's Company, or Fantasy Island on TV. My mother and I share a love of reading and so she used to read to me quite a bit, as well. I also spent loads of time with my grandmother, who made her living as a babysitter. My grandmother is one of the strongest women, both physically and spiritually, that I have ever known. She's very generous and loving and is a complete expert in her ability to comfort people in crisis. She's also notoriously willful and loves to tell dirty jokes. I also spent a lot of time with my mother's younger sisters, Theresa and Patti. My father, a Wisconsonian, and my mother divorced when I was very young. My mother remarried when I was 7 years old and my brother Will came along a couple of years later. And God, was I glad to see him! My brother is one of the most wickedly funny, kindest, most artistic people I have ever known and I'm so glad that he's my brother!
Here are some photos of my family: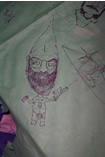 My brother, the artist. His napkin and ballpoint pen ink drawing of his uncle Larry.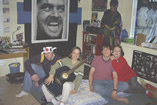 From left, my cousin Paul (sporting the samurai headband I got him for Xmas), me, Will, and my grandmother, Cynthia.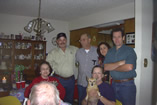 From left, the back of my grandfather's head, my grandmother, my uncle Danny, step-father Ron, dog Poppy, my mom, my aunt Debbie (wife of Danny), and my super-cool, electric guitar-playin', SuperBowl-lovin', beer brewin' uncle Michael.


My cousin, Patricia (uncle Danny's daughter), with her adorable kids Ian and Ellis. This is a horrible photo of them and Trish's red eyes make her look like the Bride of Satan, but I decided to go ahead and put the photo up, anyway. Hope you don't mind, Trish. :)


My saintly dog, Poppy.